Let me start out by saying there will be no pictures with the weekend post. My camera and my shoes were stolen at the wedding reception. How low is that. I was just really surprised but oh well I guess I just think too highly of people.

With all that off my chest the weekend was great. On Thursday night everyone started to come into town. Most of their family is from Michigan but there are a few is Atlanta and the cousins that stayed with us are living in Virgina right now. We cooked at our house and we had different waves of family coming through as they were getting into town. We ended up staying up until about one in the morning.
On Friday Trevor took off work so we could spend time with everyone. We all got together at Trevor's parents house at lunch for pizza then we went bowling with the kids and cousins from Michigan. After bowling Trevor and I made a airport run to pick up one of the groomsmen then got ready for the rehearsal. We went to the rehearsal then to Jim and Nicks for dinner. Those biscuits are sooo good. After dinner we went to Papa Saias and hung out for a little while and once again didn't get in bed until around one. On Saturday morning Trevor and I woke up and went to the gym for about an hour then we went to lunch with the groomsmen and his dad before they headed to the chapel.

The wedding was at six at American Village. The reception was right after the ceremony in the new ballroom. It was only the second event that has taken place in the ballroom at the American Village since it opened. It was beautiful. I am so glad that my parents were there too. After the wedding and reception most of the cousins went to Devin's house to hang out we got in bed about one in the morning, does anyone else see a pattern here. Trevor and I usually go to bed at like ten even on the weekends so this was a lot for us.

Sunday for brunch the entire family went to Trevor's parents house. They did the same brunch last year for our wedding but of course we were in flight to Jamaica. After telling everyone by and returning the tux we went strait home and took a long nap.

Alissa did text me this picture of her in the airport at 6:30 Sunday morning on the way to Mexico. It is a picture of her with the bag that I gave her for Christmas with her new married initials on it.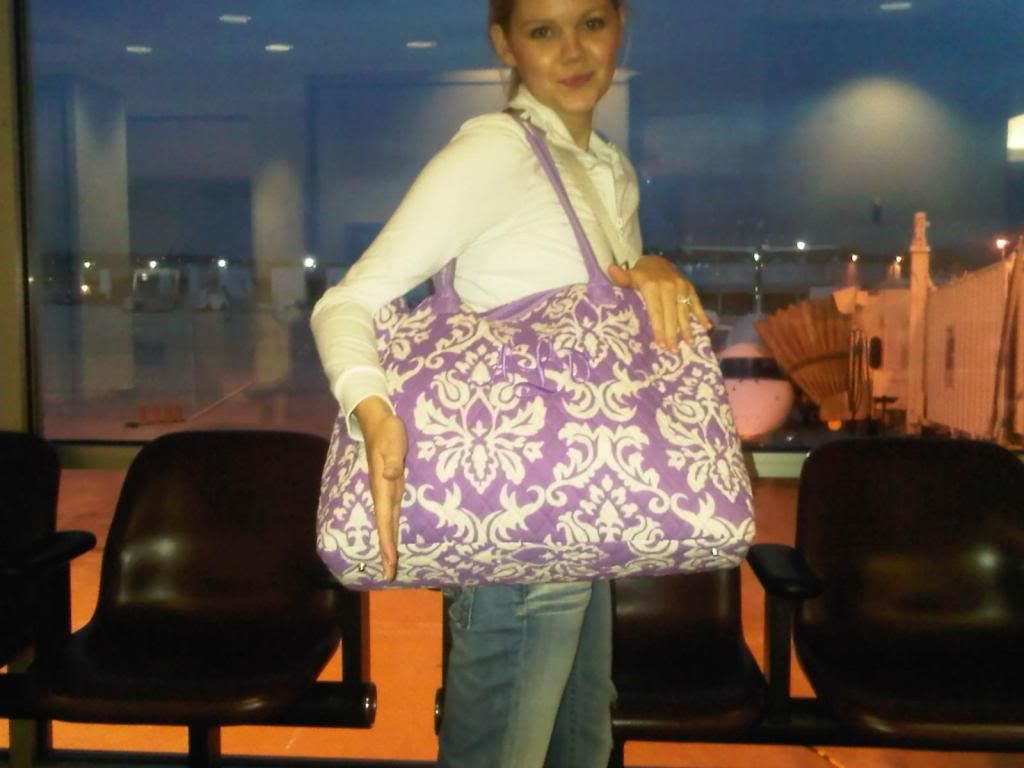 They are staying in Playa Mujeres, Mexico at the all inclusive Excellence Resort. This is two pictures of the room that they are staying in. How jealous does this make everyone? It makes me want to go on another honeymoon really bad.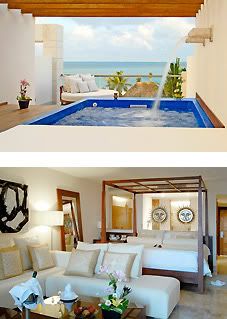 Hopefully after the photographer puts their pictures up I will put some up. The photographer had a photo booth there that guests could go and take whatever pictures that they wanted. It was an awesome idea and we took some really crazy ones. I know other people took pictures too so as soon as I get them I will put them up.
Hope everyone had a wonderful weekend.