On Tuesday the last night of finals I met Trevor at his parents to start both of our celebrating. We went the Shoal Creek Golf course for dinner and the parings party. When we first got there we were told tee times for the ProAm the next morning. I took off that Wednesday because it was the day after finals so I could have a break but also because I wanted to watch Trevor play in the tournament. I was hoping to sleep in a little on my day off before heading to the golf course but...since his tee time was at SEVEN O'CLOCK it was kind of hard to do that. We were like "seriously!"when we saw the time!
After hanging out for a little while we got food and sat down to eat. The food was delicious! We had shrimp, raw oysters, and lots of other wonderful things. While we were eating Taylor Hicks came out and sang in front of us. We thought he was actually really good. He still makes his crazy facial expressions but he did good. His saxaphone player was amazing.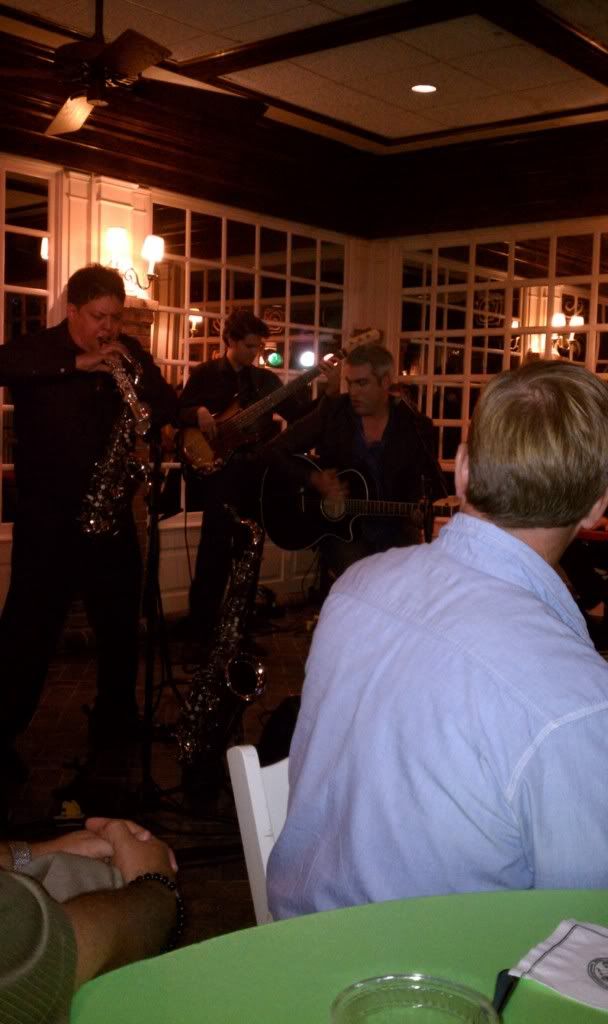 After dinner they had some auctions for charity and Trevor found out who he was playing with for the next morning. He was pared to play with his dad, two of their sales reps for Jeldwin (a window company), and Chin Soon Lu(Professional).
The next morning we woke up at 4:30 to head out to Shoal Creek. It was pretty cold and wet out. After we got there we went in the club house and they had a big breakfast spread layed out. Trevor got a huge gift certificate for the Nike tent along with a nice money clip that was his pass to get in everywhere. I was really surprised that I was able to go everywhere they went and was able to participate in everything. I was able to go in the club house with them and eat and everything.
Trevor did really good playing. He was told that it would be really nerve racking for his first drive on the first hole there but that was actually his best tee shot. I was so proud. Their team ended up finishing 9 under.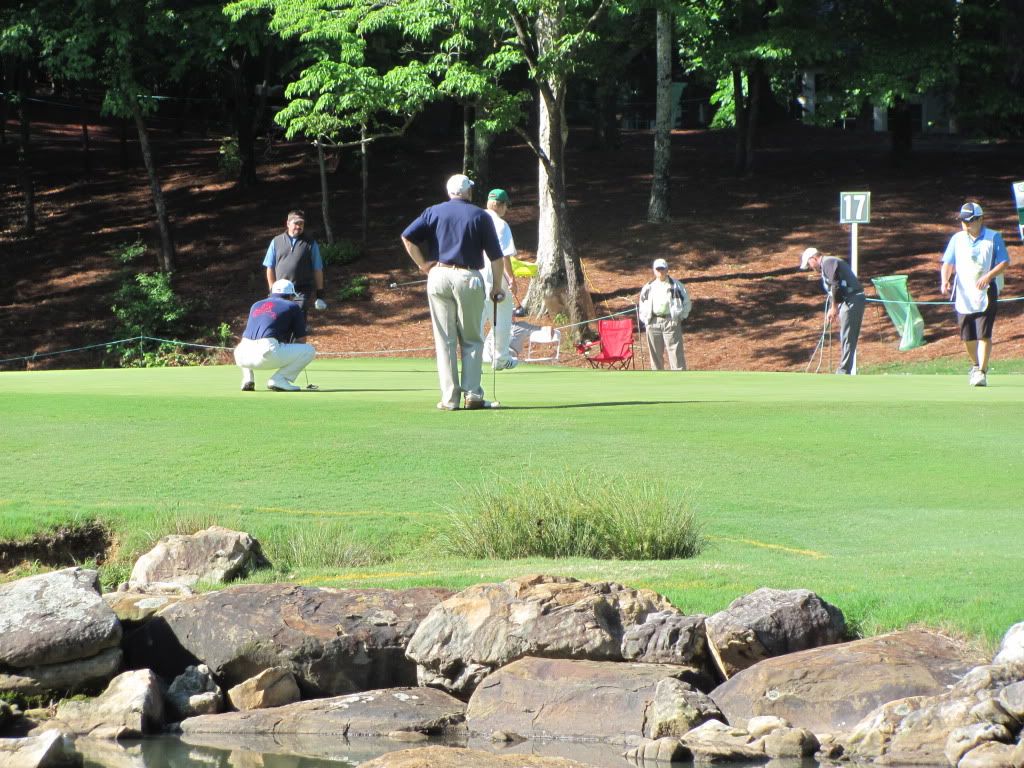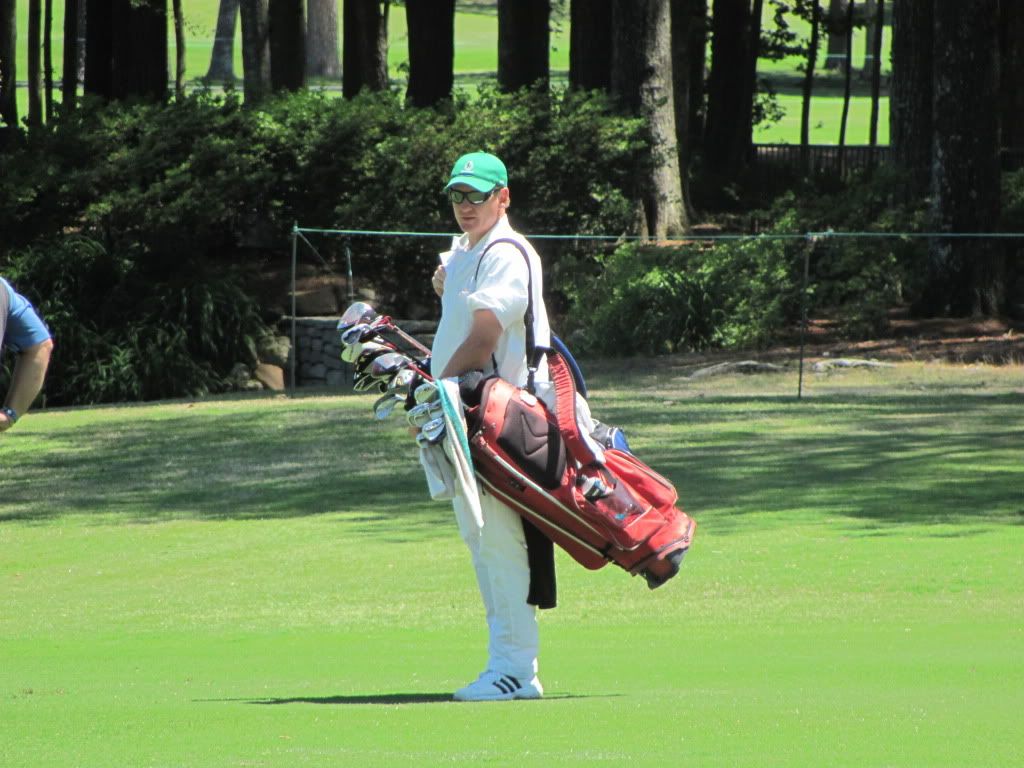 Trevor's Caddy! I think he could have got used to this part.
After he got finished playing we went to the Nike tent so he could spend his gift certificate. The tent had everything you could think of in it for golf. He got lots of nice things in it. After that we went to the clubhouse and ate lunch. We hung out for a little while after lunch and watched some other teams finish.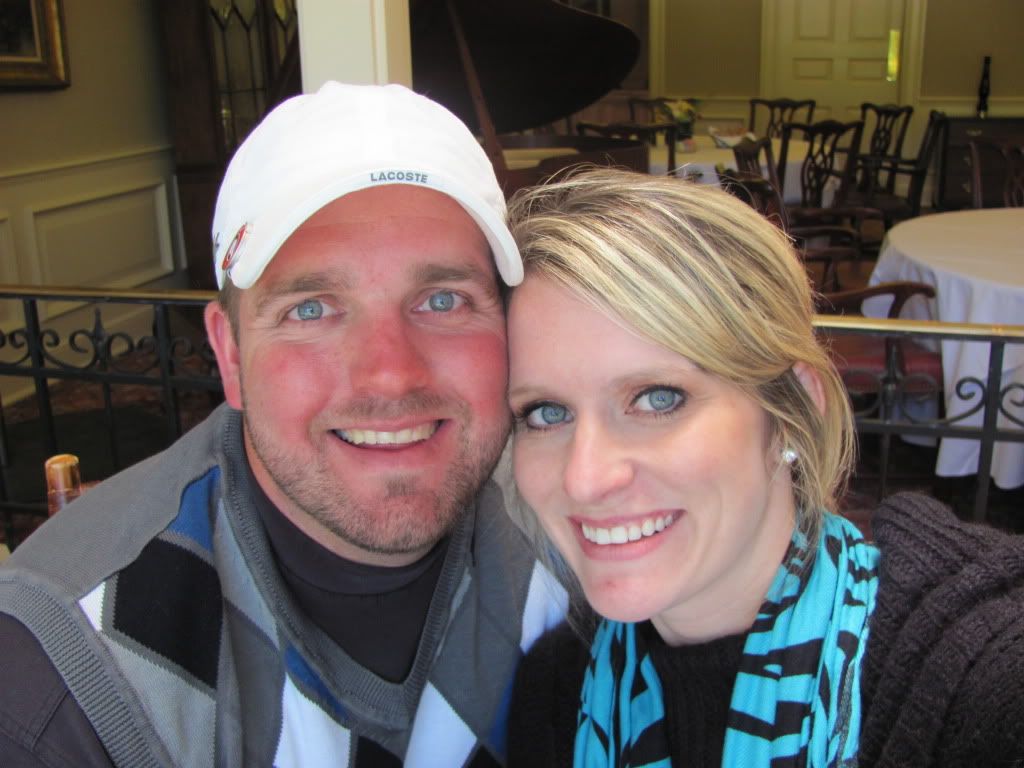 On Saturday we went back to Shoal Creek to watch the tournament with Sam and Joe, a tradition we have made. We had a lot of fun.
We hung out in the Regions tent and ate lunch when we got there. After lunch we went and followed Lu around for a little while to watch him play. He did well. He played with Mike Price that day.

After we finished at the the golf tournament we went to the Tatum's crawfish broil. It was nice to hang out with lots of friends we haven't seen in a while. Great way to end my last week of school.