Trevor came and met me at work the Wednesday before Christmas and the Ultrasound tech here was so nice to do one for us. Neither of our parents knew that we were getting it done this early. We are not scheduled to get our anatomy scan until my 20th week on January the 10th, so that is all they knew. I drank a half of a Diet Mountain Dew before I went downstairs because I was scared the baby would be sleeping and wouldn't corporate. I have heard many stories where people have had to come back because the baby wouldn't show their stuff. When she started to do the ultra sound you could tell the baby's feet were crossed. So she moved my belly around some to wake him up. As Trevor was looking at it and I was looking at him, he said "is that what I think it is?" Right then before even looking I knew it was a boy. He started grinning from ear to ear. Angela said yep it is a BOY!!! Like I have said before, I didn't care either way because I want both a boy and a girl, so I was excited as well. I knew Trevor wanted a boy so that made me even happier. He all of a sudden started moving around a lot. She said well I think the caffeine has just kicked in. It was so hard to hold it in until Christmas. The next morning when we woke up Trevor kissed my belly and said good morning son. To know what the baby is now makes it even that much more real that we will soon be parents.
We decided to tell our parents on Christmas eve instead of Christmas morning just because of the way we were doing Christmas with our families this year. My dad had to work on Christmas day so we were going to celebrate the day after Christmas with my family. It was kind of nice to do it that way because we spent a whole day with each of our families. I hated that my dad had to work on Christmas though.

Before we went to dinner and church service on Christmas Eve we went to my parents house and gave them this to open…..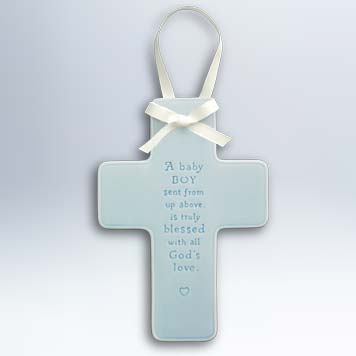 They were so excited. They don't have any boys in the family. It is just me and my sister then she has two girls. I am happy that my dad will be able to do boy things with our son that he hasn't ever had the chance to do. After we left my parents house we headed to Trevor's
parents. We wanted to give it to them before we left for church because Trevor couldn't wait any longer. They were really excited as well. We gave them the same plaque that we gave my parents. His mom started crying hysterically. She really wanted a girl because she has always had boys, but she knew we weren't just having one child and said she was wanting us to have a boy first. Plus she knew that is what Trevor really wanted. But then she was mad at us because she lost all her make-up before we went out.
Here are a few pictures that we got. We didn't get many but just enough to show us in black and white that it is a boy. I am sure we will get a bunch more at our anatomy scan.
We have not for sure made up our minds on a name. It is a lot harder than I thought it was going to be. We will let you know as soon as we figure it out for sure.