Trevor played in a tennis tournament at the Hoover Country Club this past weekend with Bubba(Bill Bussey). They played two games on Saturday and one on Sunday morning. I made it to all of them except the one on Saturday afternoon. It actually stormed in the middle of that one so I am glad I didn't go. They did well in all of them, especially the one of Sunday morning. They had to play a tie breaker for that game and it was very hot. In the end they won the tournament! I am so proud of my hubby. Here is a picture of them with their trophy....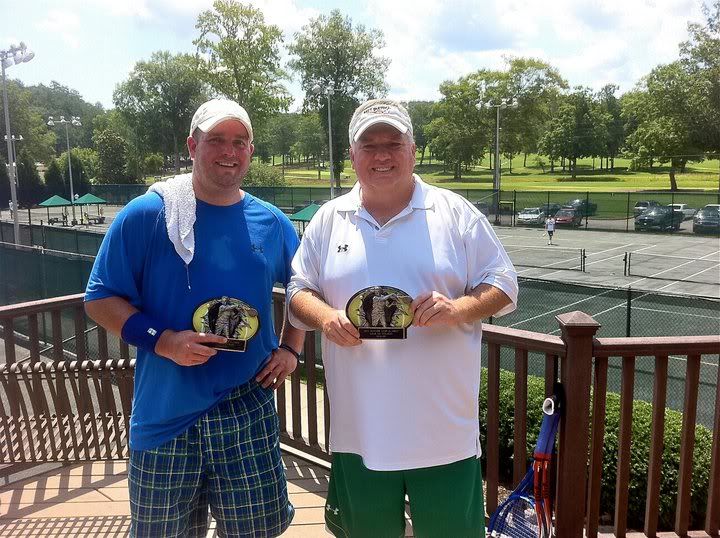 Sorry it isn't very clear, taken with phone!
Trevor has started to take me out some to practice. I am trying to get started playing but I am going to have to have a few more lessons for that. It is such good exerci1se.
Along with Trevor's tournament we went to two birthday parties this weekend. I was a slacker and didn't even take my camera to either of them. On Friday we went to Cocina Superior to celebrate Ashley's birthday with probably 30 people. We had fun but Trevor was tired so we didn't stay really long. On Saturday night we went to Devin's house for his birthday and had a cookout with a bunch of people there. On Sunday I helped my mom with a baby shower at the church for a good family friend. Maybe I can put some pictures up later after I get them from my mom. I love being able to hang out with friends and family now. Hope everyone else had a wonderful weekend!!!