I haven't been a good blogger lately, just a lot going on. It was so nice being out of school all week. I worked only Monday and Tuesday but then was able to come home and cook dinner like normal people do. I was off Work Wednesday through Friday so it was really hard to get up and go back to work today. On Thursday we went to Paul and Christy's house to eat the traditional turkey and dressing lunch and then my parents came over that afternoon and we cooked out steaks with them. We went to bed some what early that night and woke up at 3am to start our Christmas shopping trip. We went to Kohl's, Dicks, Academy, and Sam's. Luckily we got most everything done with just a few little things left and were done by 6am. Then we went to The Egg and I for breakfast, which was Delicious. After shopping and breakfast we went home put 5 layers of clothes on then headed to Tuscaloosa for the day. Samantha and Joe rode down there with us and traffic wasn't really that bad getting there at 8 in the morning. After we dropped them off at their friends house we met up with Molly, my high school friend and first roommate in Tuscaloosa.
We tailgated with her family and some friends for a while before the game. The tent was great. It had a heater in it that we gathered around a few times to get warm between playing games. We had such a good time hanging out. I sooo wish the weather would have been better though it would have made it more enjoyable. Trevor and I went in to the game expecting an ok game with back and forth scoring but man was I wrong. After every sack in the first half of Cam from Auburn and points scored every time Bama had the ball Trevor and I just kept looking at each other like are you serious. Where has this bama team been all year? We were very cold and it started to rain on us a few times so when it was 24 to 3, close to halftime, we went back to the tailgate and watched the rest of the game under the tent and with the heater in front of us.
So after the half it was apparently two totally different teams playing and the game turned around with Auburn scoring all the points and bama scoring none. As you all know!! None the less we had a good time and were exhausted after it was over and ready for bed.
On Saturday we basically were lazy and just hung out around the house for the most part then went to Morris and Marcie's house that night to watch a few games.
On Sunday after church I studied some then Trevor and I went to play tennis, which I haven't done since the summer and paying for it today. After we left the court we went to my parents house to celebrate Thanksgiving with all of them. We had more yummy turkey and dressing with my parents, sister, brother-in-law, kids, and my Nanny and Richard.



Us taking goofy pictures for Christmas cards with all our different team colors on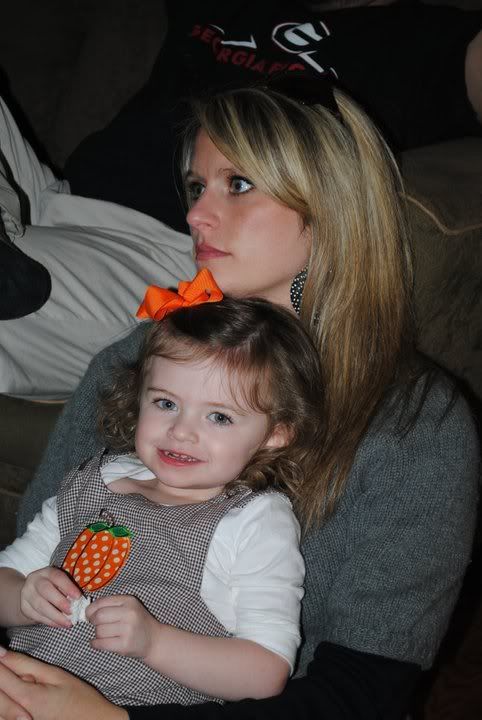 We all sat around and talked about what we were thankful for this year. I am a pretty emotional person when we get to talking about things like that so I only said a little to keep from crying. Of course I am thankful for my husband who takes such good care of me. He has been so good to me with being in school by helping around the house and cooking more. I could not ask for anything better. I am thankful for my parents who brought me up in a christian home and helped me to become the woman I am today. I am also so thankful for my nieces who light up my day when they say my name. I have so much going on with school and work that are so stressful, I just don't stop to think about all the good sometimes. Hope everyone had a wonderful day and that you were able to spend a little time with your family too.